Your maintenance workshop
Whether for fixed-wing aircraft, helicopters or workshops, you can repair your components and manage your jobcards with TracingFlight©. Our software suite helps you better plan your maintenance shop's workload so you can reduce your aircraft ground time.
Aeronautical maintenance and engineering
Built on our experience, TracingFlight© features the latest technology to improve your efficiency and ensure your business data is visible, easy-to-access and reliable.
Available on any interface
Whether you're using a PC, tablet or smartphone, our software gives you continual access to your data. Even in off-line mode, your teams will have access to documents.
The TRACING FLIGHT©
ALL-IN-ONE range
The TracingLine© module is available in an autonomous version or integrated in the TracingNav© airworthiness tracking software.
Scheduling – Optimisation – Forecasting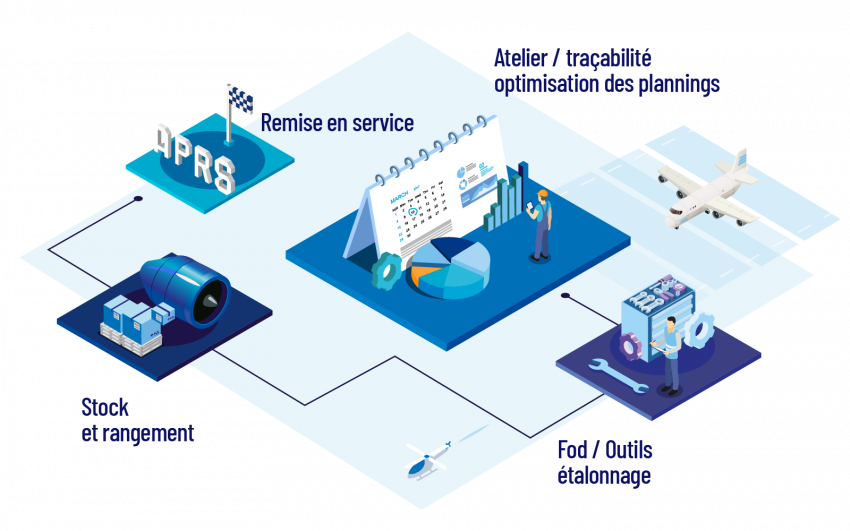 A software tool to support all your maintenance operations.
TracingLine©, software designed specifically for aircraft operators and maintenance shops.
Tracks data, images and operators (electronic signature).
Real-time consultation of workloads and production capacity.
Schedule of operations and workforce / Schedule of shop workload.
Engineer logbook (hours / licences).
Filter records by ATA, aircraft, engineer, etc.
External data import or manual entry / Gateway for Excel, SQL, etc.
Integration of PDF files, technical notes, diagrams, photos, etc.
Time sheets.
Manages and generates work-related records.
Inventory management.
Tools and servicing management.
Automated documentation of daily maintenance logs.
Generates the APRS and technical and sales documents.
Customised
support
Our expertise in the field of traceability enables us to offer high value-added solutions for aircraft maintenance. We support you from the initial audit to the roll out, including training and transfer of your old data.

Audit

Business analysis

Accredited training

Data recovery

Technical support

Regulatory monitoring